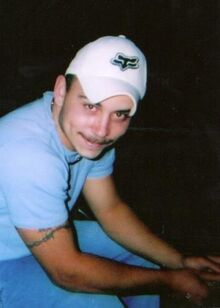 Todd Geib (pictured to the right) was 22 years old when he died. He was a smart and capable young man and a proficient outdoorsmen - delighting in sports and taking up dirt-biking, fishing and hunting as hobbies. He worked at Hager Distribution, Inc in Wyoming, about 30 miles south of Casnovia, where he would eventually meet his end. Apparently, he was a religious man who believed in the afterlife.
The Incident
Earlier that day (Saturday the 11th of June, 2005), Todd had visited his parents' house in Ravenna, and then returned to the house he was renting with his cousin before leaving for the Half Moon Bar & Grille at around 7:30pm - where he met his best friend, two other male friends and two female friends. This group left the bar as one at around 9:30pm.
He would last be seen alive on Sunday, June 12, 2005 when he attended a keg party and bonfire in the small hours. There were 100 people at the party, which was held behind an apple orchard in a marshy area about two miles north of White Road in Casnovia, Michigan - which contained 6 miles of hip-high grass. According to those in attendance, a fight broke out at around 12:45am, and that there had been a group of men from Kent City who were looking for a fight. It is unknown whether or not Todd was involved in the skirmish, but it was around this time that he decided to leave the party. 
Geib left the party in order to walk back to his cousin's house at 291 Moon Court, where he was renting a room. He lived near Half Moon Lake, which is about a mile and a half southeast of the party's location - and he may have been seen walking along Moon Road. The last contact anyone would have with Geib was had over a series of mobile phonecalls between 12:47am and 12:57am on Sunday. It was 12:47am when he called his friend who had driven him to the party to say that he'd 'had enough', and at 12:51am he called a (presumably different) friend to say that he was 'in a field' before the call promptly cut off. This same friend called back, only to hear nothing except something that was either breathing or the wind before the call ended once again. Two more attempts were made to call the friend back over the next few minutes, with the last attempt ending at 12:57am. Geib's phone was not used again, and neither were his credit cards. 
It was as if he had vanished into thin air. A search party of 1,500 volunteers turned up nothing over the course of three separate searches, and an aircraft searched the area around the party site to find absolutely nothing. Todd Geib had simply gone. 
21 days later, a couple would be the first people to see him again. He was stood upright in Ovidhall Lake, located just north of the intersection of Peters and White Road. This lake is less than two miles away from Todd's home on Moon Court. Todd was dead in the water. The circumstances in which his body was found were bizarre - the witnesses 'remember it distinctly because his head and shoulders were sticking out of the water'. He apparently looked like he had simply gone for a swim, which is exactly what a police officer told Geib's mother, Kathy - but this makes absolutely no sense seeing as he was fully clothed and had his wallet in his pocket. Perhaps he was drunk enough not to care? He had a .12 blood alcohol level, and his death was ruled as an accidental drowning due to intoxication.
However, the autopsy revealed that he had no water in his lungs, and typical drowning victims will have quite a bit of water in their lungs and will float face down. Further doubt was added to this ruling at a 2009 medical examiners' conference, in which Dr. Michael Sirkirca presented photos of the crime scene recovery and autopsy to other forensic pathologists, all of whom agreed that he had only been dead two or three days before his body was found. This leaves at least a period of 18 days completely unaccounted for, which means that Geib may have been the victim of homicide - and possibly kidnapping/unlawful detainment.
The Aftermath
Kathy Geib is still fighting to get the case reopened, and has said to WZZM13 that she knows 'We can't bring him back with an investigation, but Todd deserves justice. It's almost like saying Todd's life is worth nothing when we have all this evidence and no-one turns back to see what happened'. 
Some have suggested that Todd was a victim of the mysterious 'Smiley Face Killers', and he certainly seems to fit their modus operandi, but I first heard about this case from an episode comparing 'Missing 411′ cases to ancient folkloric fairy abductions on a very interesting podcast called 'Encounters'.
Sources
https://footprintsattheriversedge.blogspot.com/2005/06/61505-todd-geib-22-casnovia-mi.html
https://juxtapositivelyjen.weebly.com/conundrums–conspiracies-blog/died-not-from-drowning-the-mysterious-death-of-todd-geib